Last Saturday, 24th of March, La Petite Ecole has once again opened its doors to welcome the children and their parents, and any family who wished to visit the school, for a morning of fun activities around gardening.
The focus, this time, was on recycling. La Petite Ecole's team had prepared a number of workshops that gave a new life to used objects : planting seeds in yoghurt jars, making patterns from colourful lids, building totems by stacking up plastic bottles, paper boxes, rolls, and more on poles (ephemeral art), using old pencils to create decorative pieces of art, and making jewelry out of newspapers and magazines.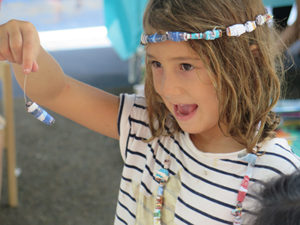 A reading area was arranged in the shade, to provide a relaxing, cosy space for the children and their parents.
As always, we had aromatic plants and colourful flowers available for planting, and the children showed great dedication throughout the whole process, from digging up the holes to covering the plant with soil and watering the plants.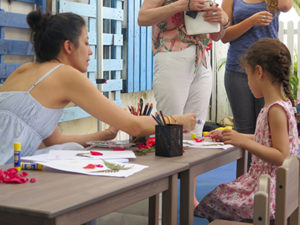 We also had the pleasure to welcome Aude, founder of Ask a French – Flowers, who kindly carried out a workshop for the children. The children had the opportunity to make collages from fresh flower petals and ferns. Each child proudly added his/her name to the piece, before we hanged it out for display.
Aude's work as a florist has been praised by a number of renowned magazines – as well as by her happy clientele. We thank her for the time and ressources she dedicated to La Petite Ecole.
*****
Aude is kindly offering La Petite Ecole's families a special promotion for Mothers Day (May 13th)!
When ordering, please use the code promo PETITEMAMAN for a 10% discount.