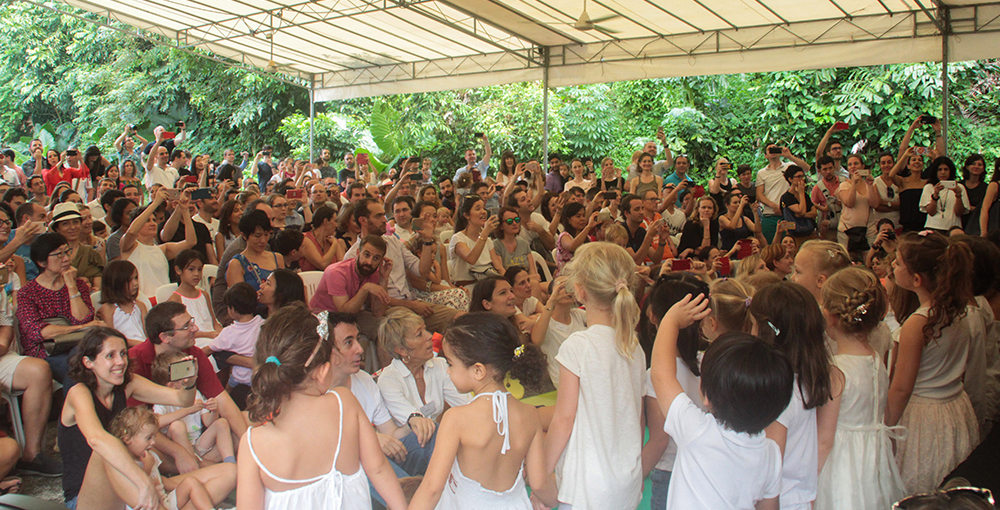 As you may have guessed, the entire school community ended the school year… with songs!
The end-of-the-year fair is a most anticipated event at La Petite Ecole. On Saturday 23 June, children have played the game to the end and have succeeded in captivating everyone's attention (some parents have even shed a little tear!)
The festivities started with the children's performance, per section, then all together for the final song.
After the performance, plenty of fun activities kicked off in the playground, in the classrooms and on the sports fields: initiation to didgeridoo and yoga, football, molky, tattoos & face painting, photobooth, treasure hunt, French through play, reading corner, water play, chamboule tout…
Parents were invited to visit the classrooms, where the latest work done by the children was displayed. They appreciated the time spent together, as they were able to chat with the pedagogical team and with other parents, and to share the delicious food brought by our partners and volunteering parents.
We thank the entire La Petite Ecole's team, as well as all the parents, participants and volunteers without whom the fair could not have met such a tremendous success.
The prizes offered to our lucky draw have been highly appreciated, and we thank all of our partners for their support and generosity, in particular the
Club Med
, who has allowed one family from the school to travel to Bintan for a long weekend (3 nights), on an all-inclusive basis. A wonderful gift which perfectly closes our project of the year, La Petite Ecole travels around the World!