"The happiest man in the world is the one who makes the most people happy"
For the well-being of the children, the different actors in the school's day-to-day operations (staff, parents, external parties) need to get along and work in harmony. The focus is on mutual respect and team spirit.
The Founders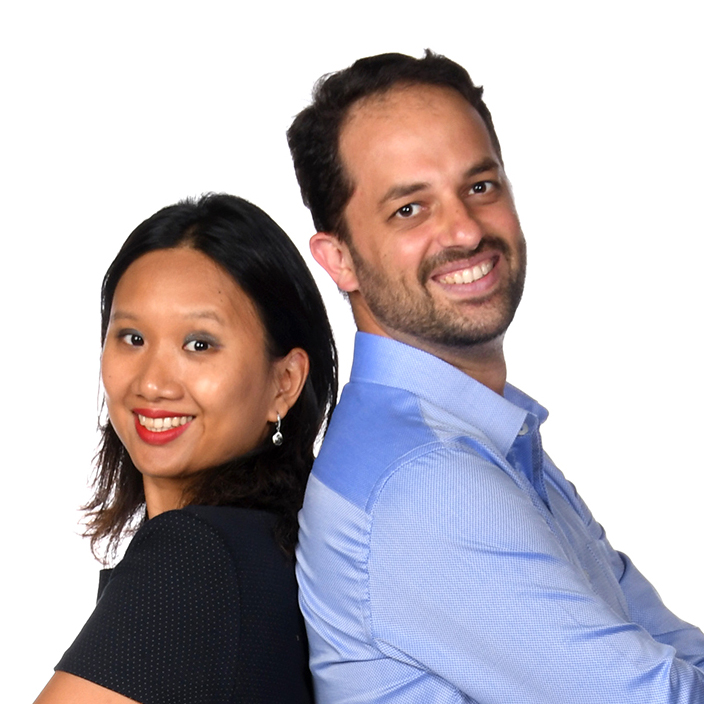 Viviane & Vincent
Married couple Viviane Salin and Vincent Rosa are the happy parents of a ten year old and an eight year old. After moving to Singapore in 2006, they could not find the right school for their children, and decided to open La Petite Ecole in September 2012.
After three successful years, they extended their services to families and their younger children by opening La Petite Crèche. One year after the launch of La Petite Ecole in Bangkok and Ho Chi Minh, in September 2017, a new exciting project has recently emerged : the opening of a language school in Kuala Lumpur, The French Academy. 
Viviane's unusual curriculum is a testimony of her multiple skills. After graduating from HEC School of Management, she first worked for an event organising agency in Paris, then as an accomplished violinist in Singapore, playing in an opera. She has provided private violin tuitions, but also taught students at the German School in Singapore. Furthermore, she has put her knowledge and skills to the service of adolescents with special needs, by encouraging them to express their emotions through music.
Her passion: to educate, pass on knowledge and reveal the potential in each child.
For the past five years, Viviane has first devoted herself to continue improving the school she had dreamed of for her children, before starting to develop and expand La Petite Ecole to new horizons. By doing so, she brings excellent education standards and learning conditions to a larger number of students.
Vincent studied in the same top-ranking school as Viviane did. After graduation, he went on to work at internationally-renowned banks, before joining his spouse to help manage La Petite Ecole, in 2013. He is the co-founder and co-director of the group La Petite Ecole.
Head of School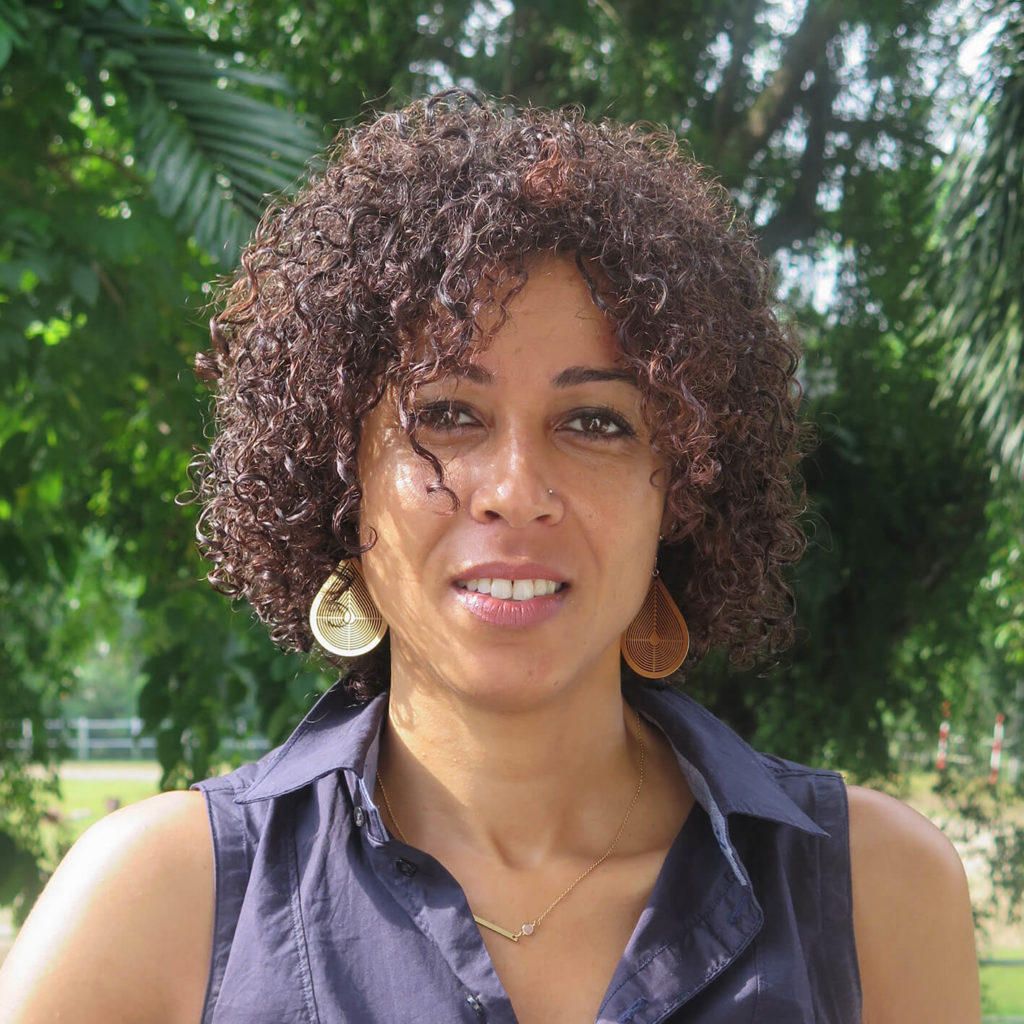 Maria
School Principal (France - Maroc)
My career is made of multiple experiences in various countries, each and every one of them bringing new discoveries and encounters into my life.
After studying Literature in Bordeaux 3 and Education Sciences in Paris, a career in education came as an obvious and natural way forward. I first taught older pupils, before discovering a passion for teaching early years children.
After working in Africa, at the Lycée Louis Massignon of Casablanca, then in Australia at the French-Australian Lycée, I have now joined the Asian continent. My first contact with Singapore was when I worked as a professional trainer for AEFE (official agency for French education abroad) in the region. My role was to conduct a seminar called "Innovative practices in preschool" in the Lycée Français de Singapour as well as in Australia, first with the Canberra-based team, when with the one in Melbourne.
Together with my colleagues, I had the opportunity to share and consider the integration of new technology practices in my classes.
After a first year spent teaching and managing the school, I was delighted to fully embrace the role of School Principal. It is with great delight that I will continue to do so this year.
For more information on La Petite Ecole's methods, you are welcome to visit this page: Our Pedagogy.
The Administration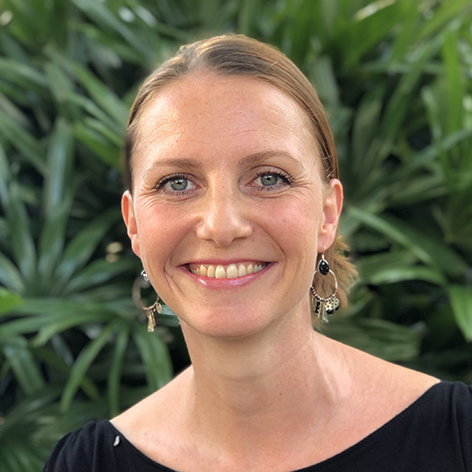 Laurence
Administration (Belgium)
I have travelled around the world for the past 12 years living in Brussels, London, Dubai and New York before settling down in Singapore in 2011. I've had 3 kids during this time, one born in New York and the others two here in Singapore. I have more than 10 years' experience in the corporate world, working for large companies and startups as Personal Assistant to Senior Executives and as Office Manager. At La Petite Ecole, I work closely with Amandine to make sure that the life in school runs smoothly. I am also in charge of parent relations and will be delighted to welcome you for a visit to our school. Along the way, I've also had the chance to focus on my passion and become a certified Yoga instructor. Namaste!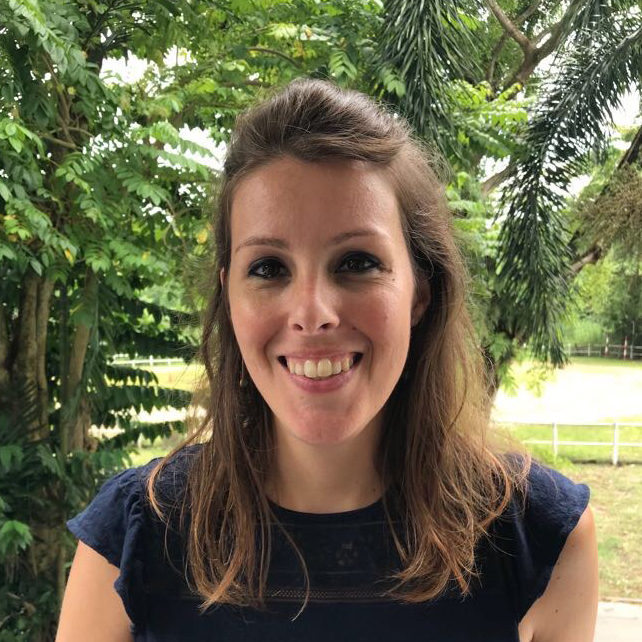 Amandine
Administration (France)
With a diploma in communication and 5 years of experience in human resources, I had the opportunity to work in education. When I arrived in Singapore with my 2 kids last year, I was very happy to join the admin team at La Petite Ecole. After 5 years in Asia, I am delighted to be able to continue our experience abroad, and live a new expatriation in another Asian country, to make my children discover a new multicultural environment. I am delighted to use my experience in a French school in Asia, within your team to participate in the evolution of this beautiful project that is La Petite Ecole. At La Petite Ecole I am in charge of the good running of the daily school life, cover general admin duties, and organise holiday camps and other events.
The Teachers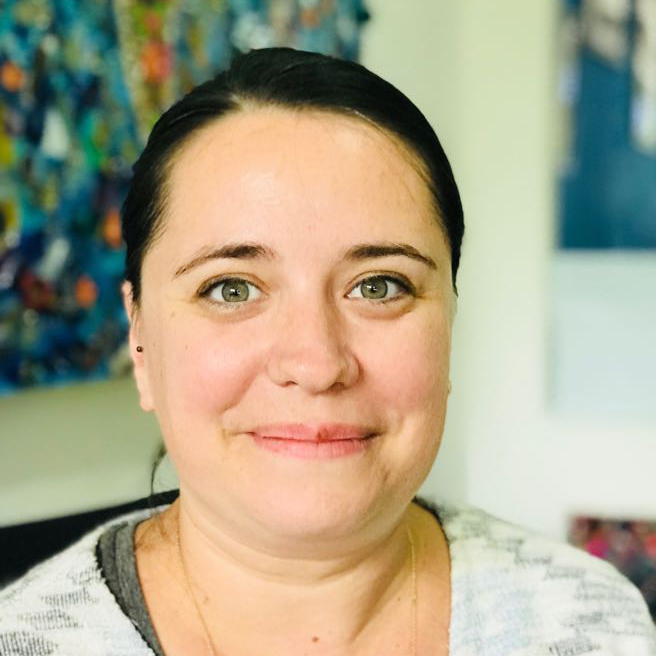 Sophie
French-Speaking Teacher N2 & K1 (France)
After working as a Cultural Projets Coordinator in Sarajevo, Bosnia-Herzegovina, for 9 years, and as a French teacher for foreigners, first at the Centre Culturel Français, then at the French Institute, I decided to move away for both professional and personal reasons. In 2015, I settled down in Cairo, Egypt, with my husband, where I took the role of preschool teacher in Grande Section, in a French international school. I graduated from ESPE (Paris 12), and it is with great pleasure that I join La Petite Ecole's team this year! I am delighted I got to meet my pupils this week, and I look forward to working with them, to helping them through their self development and acquisition of new capabilities in the school's bilingual environment.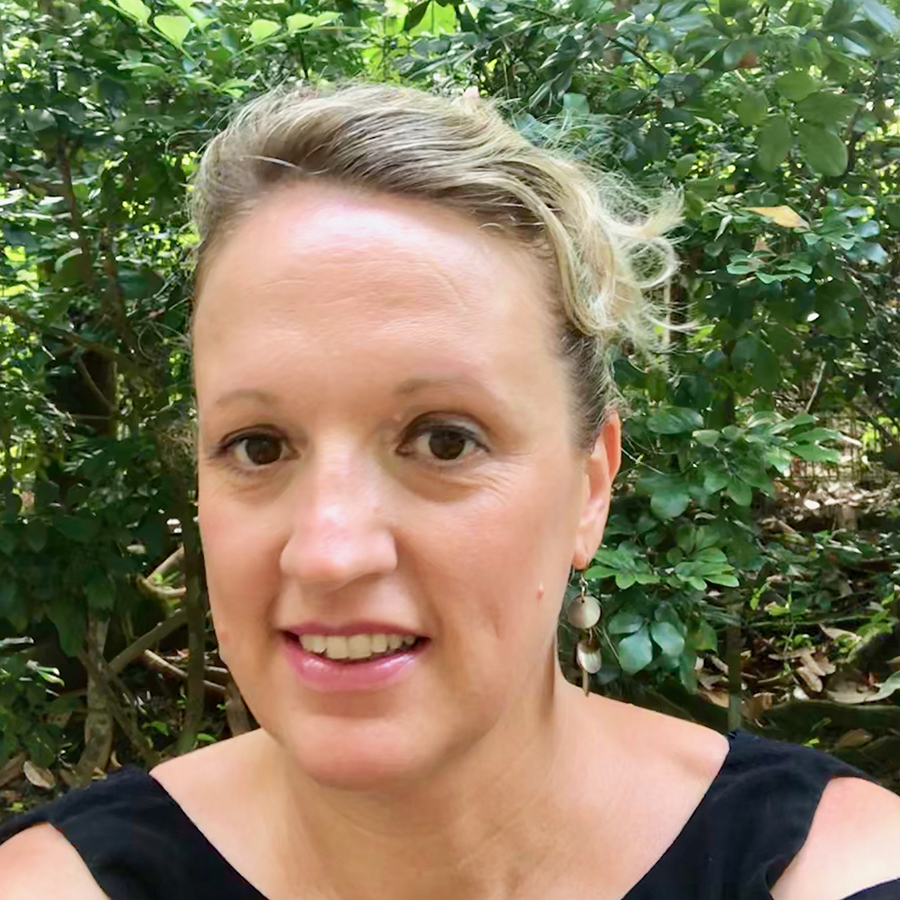 Aline
French-Speaking Teacher N2 (France)
I am a 44 year-old mother of two. I am delighted to come back to Asia, where I started building my family in Bangkok, in 2007. Visits to Thailand, Sri Lanka and Japan have allowed me to maintain this special bond I have with this part of the world I am particularly fond of. I am French and my husband is British, and I am coming to Singapore from Belgium, where I worked as a preschool teacher for 5 years, at the European School of Brussels I. Passionate about my profession, my goal is to offer a wide variety of activities to the children, to help them learn and grow in an engaging, positive and benevolent atmosphere. I believe that each success, each challenge taken by a child needs to be celebrated and encouraged, and I will most certainly share those with you, the families, on a regular basis.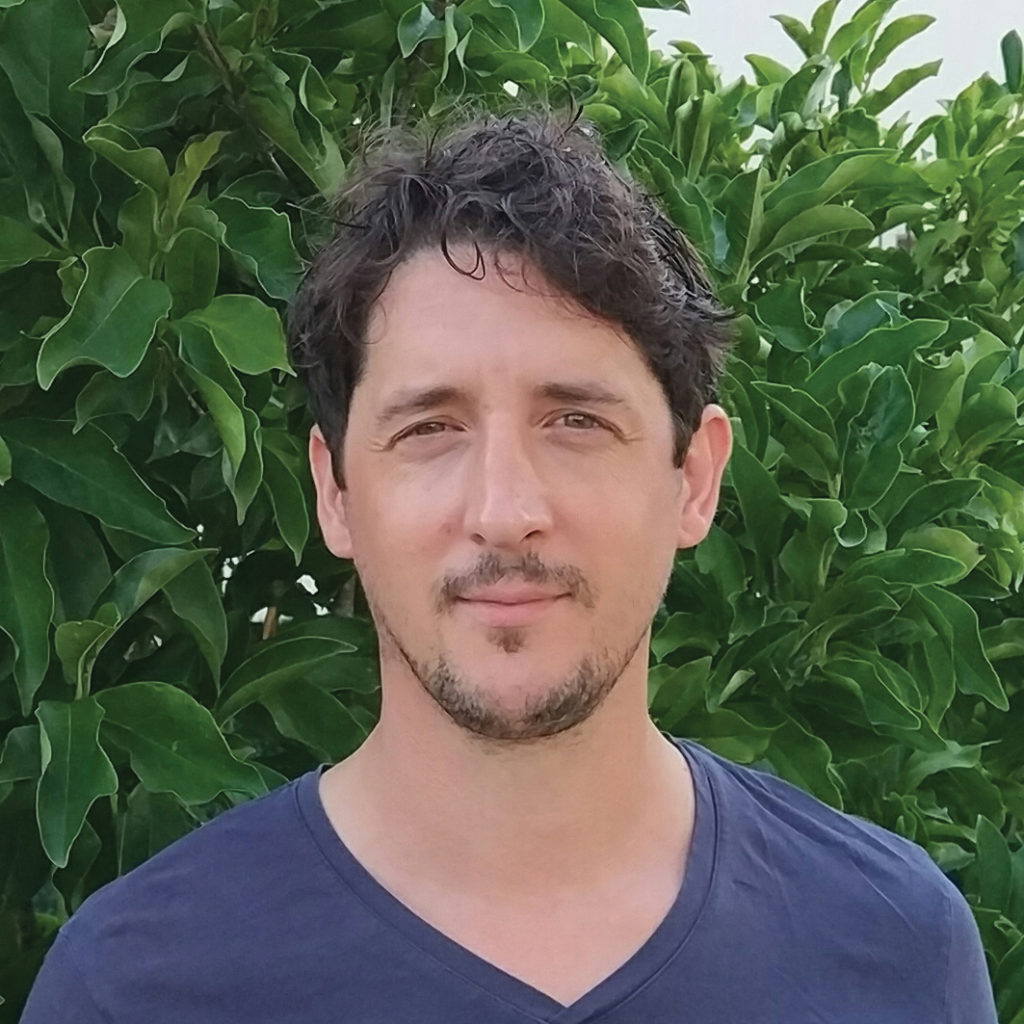 François-Xavier
French-Speaking Teacher K2 (France)
School teacher for nearly 10 years, I taught in a kindergarten in Shanghai, China, for 5 years. Now father of two boys (3 and 4 years old), I have been looking for a more suitable environment for my family, that would allow me to continue evolving and enriching my professional practice in a multicultural, bilingual environment. This is what brought me quite naturally to La Petite Ecole Singapore, where I integrated the pedagogical team last year with great pleasure. Willing to work in a rich and stimulating cultural environment both for myself and especially for the children I am responsible for, I am delighted to use my experience in the management of bilingual (and double-level) classes at La petite Ecole.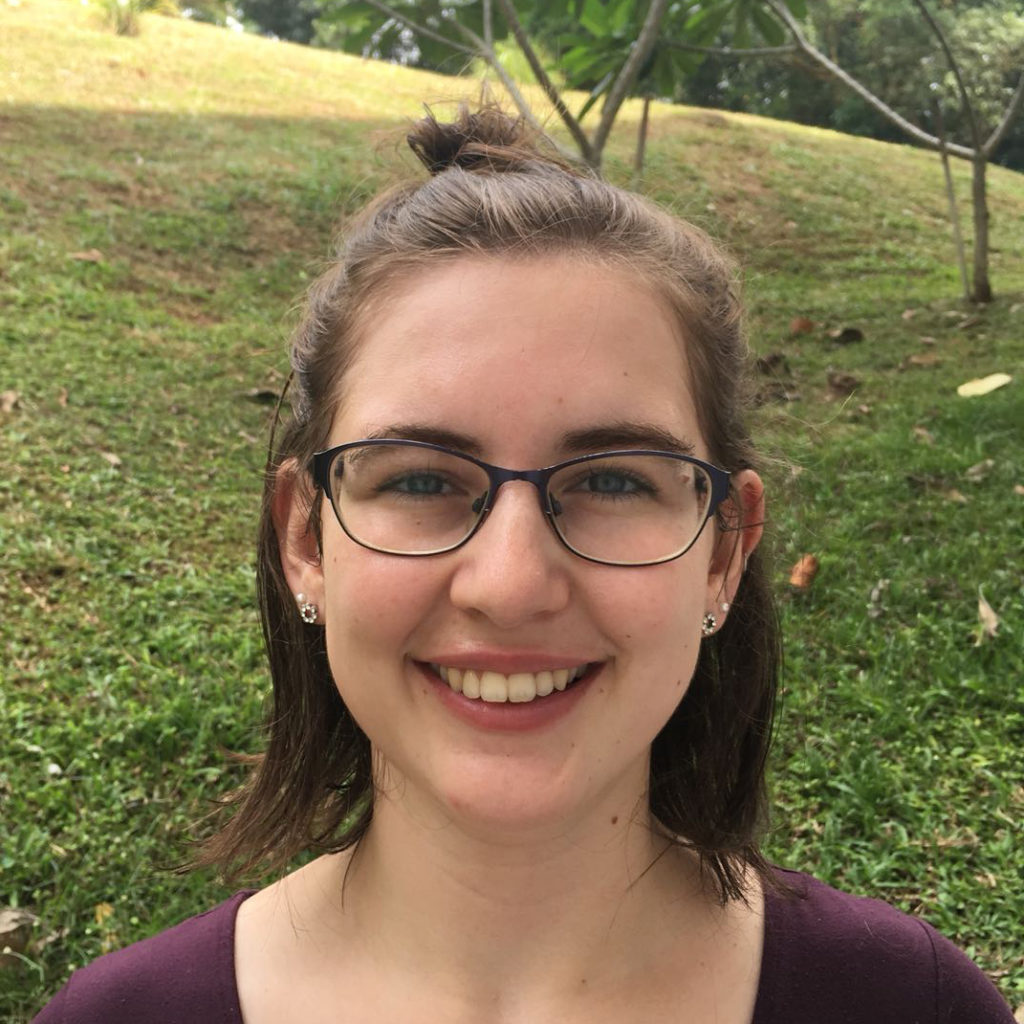 Rosie
English-Speaking Teacher N2 (UK)
Hi my name is Rosie, I am British and I have lived in Singapore since 2014. I graduated in 2012 from Lancaster University, and since then I have worked in education in France, the UK and Singapore. I am really excited to work alongside your children and help them discover their individual love of learning and an eagerness to explore the world around them. I am TEFL qualified and education has been my passion since high school. Outside of work, I love reading, cooking and of course, sampling the many cuisines Singapore has to offer! I also enjoy exploring Singapore's greener areas and am thrilled to be working in such a beautiful environment.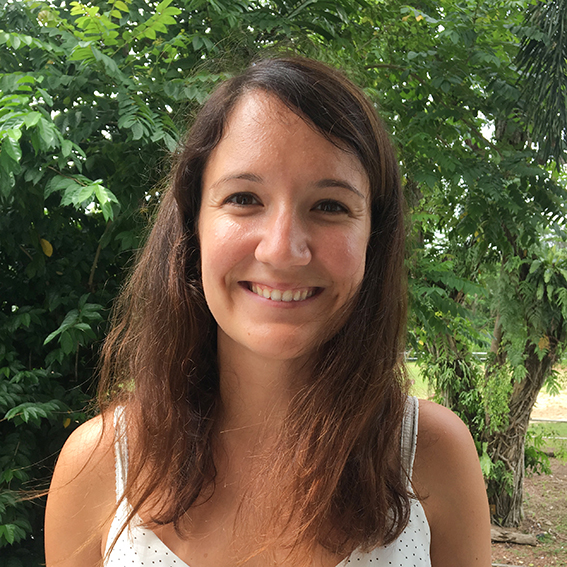 Marie
French-Speaking Teacher N2 (France)
After completing a Master Degree in Education, during which I carried several work experiences in school, I quickly obtained my diploma of preschool teacher. I first spent two years teaching in South-West of France before moving to Paris for work, in the embassies area. I am very open to people and I have always been attracted to teaching, especially abroad. My husband and I decided were both very keen to move to Singapore. I was immediately attracted to La Petite Ecole : a small, dynamic and benevolent school. This year again, what I would like to achieve is to support each child individually, in his/her process of learning how to do and be, in order for him/her to thrive and grow happily.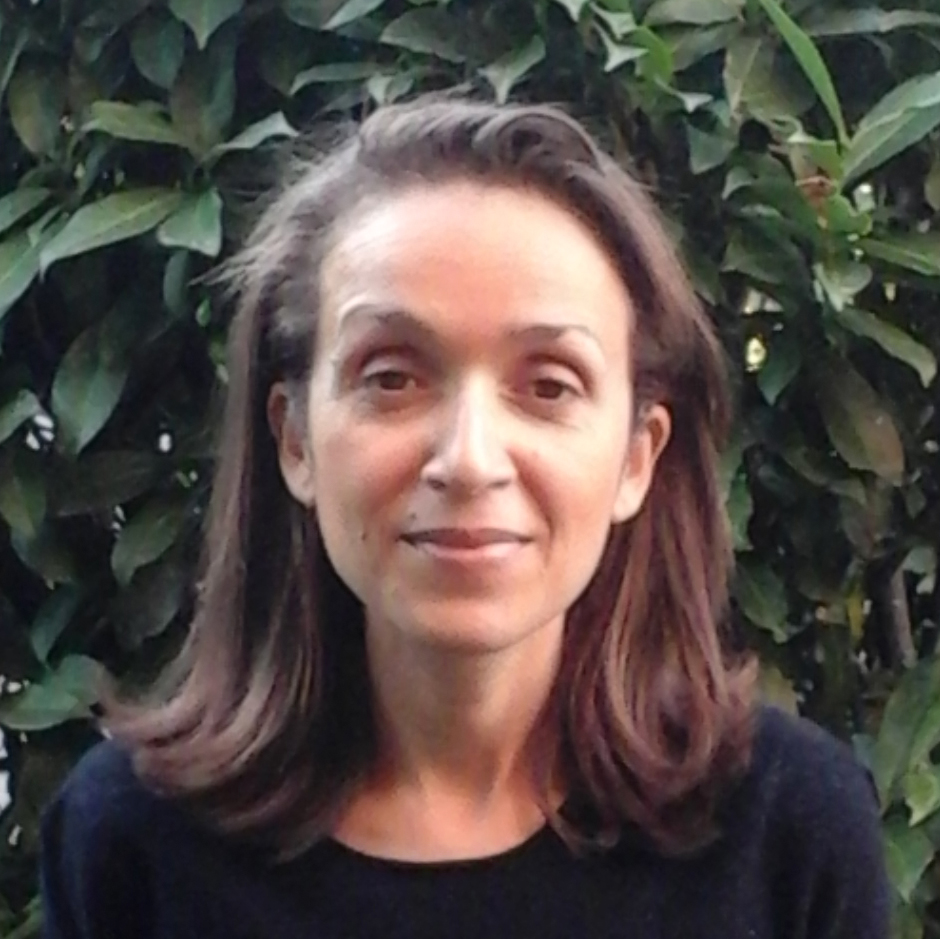 Marie-Ange
French-Speaking Teaching K1 (France)
I started my career as a jurist, but after completing my PhD thesis on Internet regulation, I decided to become a primary school teacher. I then passed the French Teacher certification which I obtained in 2015 (Academy of Lyon, France). I have decided to join La Petite Ecole in September 2018, following my husband's relocation to Singapore. I am delighted to take on the role of teacher in Moyenne Section (K1) this year. My pedagogy is based on language, play and music. This approach will help the students to develop their autonomy and their understanding of the world.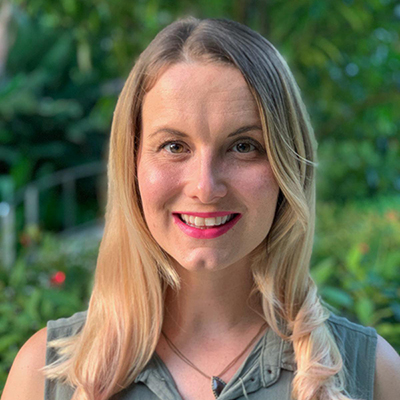 Sarah
English-Speaking Teacher K2 (UK)
Growing up in Colchester, I was surrounded by a rich history and culture. Following my degree, I had the opportunity to work in a special education needs school for 2 years. After travelling around Asia, I could not stay away from the weather and took up a position as an English teacher for 4 years, teaching students from N1-P6. I believe in positive communication and nurturing confident individuals. In my spare time, I love to explore nature and different sporting pursuits; I am now entering the world of triathlon. I am a creative individual who seeks to bring commitment and enthusiasm for all things innovative to the first-class team of La Petite Ecole. I shall provide an engaging and exploratory education for your little ones.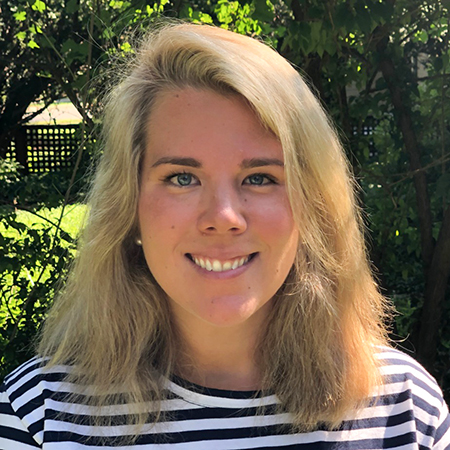 Victoria
English-Speaking Teacher K1 (US)
I am originally from Washington, DC and moved to Singapore in January 2019 with my husband. I started my career as a human resources consultant, but have taught English as a Second Language on a voluntary basis for over five years. I have always loved teaching and working with children, and am very excited to join La Petite Ecole as its pedagogy and principles align perfectly with my own. I look forward to providing an individualistic, free-thinking, organised and safe environment in my classroom so that each child may learn in their own special way. In my spare time I enjoy cooking (Italian is my specialty!), swimming and reading.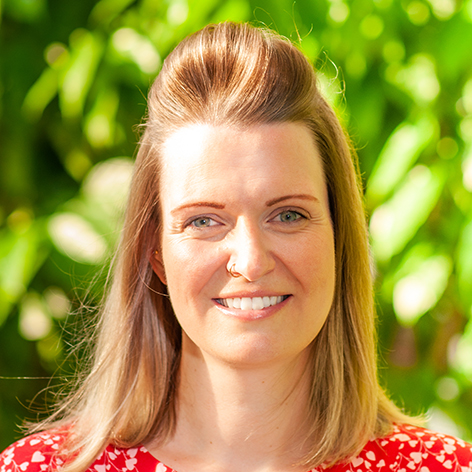 Nadine
English-Speaking Teacher N2 & K1 (UK)
The eleven years of teaching experience I've gained so far have taught me more than I could ever have imagined. From teaching very young learners in Poland and Spain, to educating women at the world's largest female university in Saudi Arabia, the most important aspect for me is creating a safe environment for children where they can learn to become independent and creative thinkers, and enjoy the learning process. I have recently taken up running again in my free time, which balances my love for baking nicely! I am excited to join La Petite École and am very much looking forward to helping each child on his/her learning journey.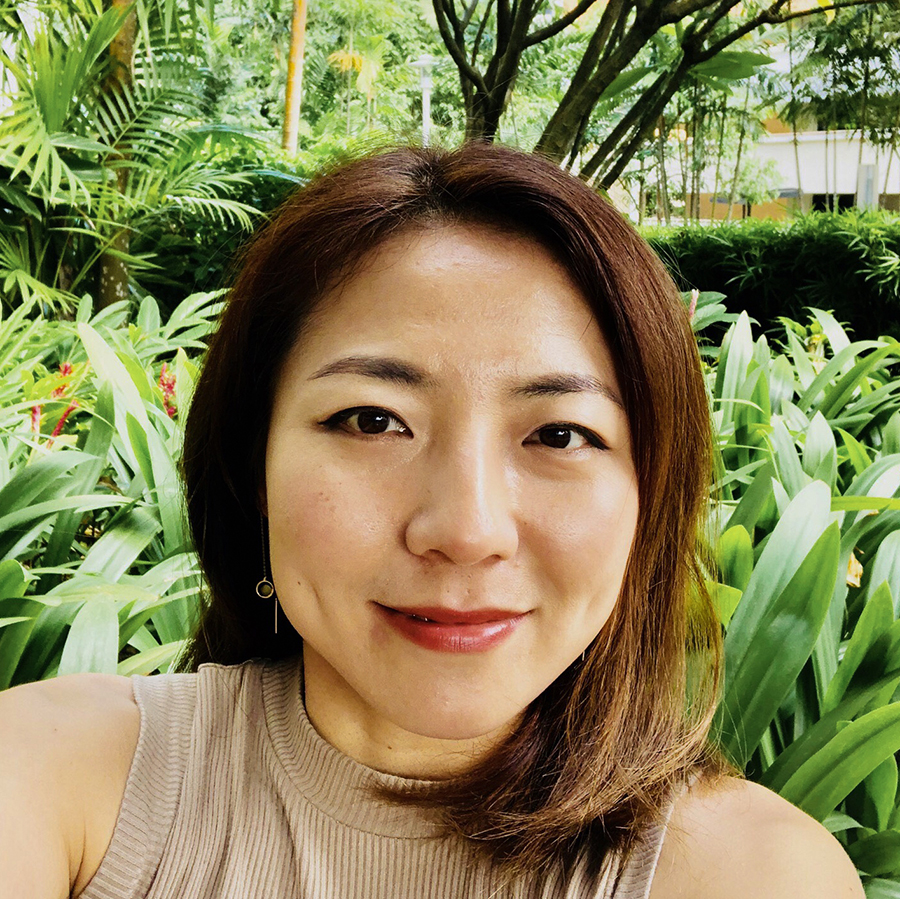 Winnie
Mandarin Teacher
Born and raised in Beijing, China, I left my hometown at 21 years old to get my postgraduate degree in Australia. After 4 years of study in Australia, I moved to Paris, France. I worked in a corporate French bank for 4 years. My husband got a job opportunity in Beijing, and we moved back to my hometown with our two daughters, in 2010. I worked in the Lycée Français de Pekin, an experience which opened my eyes to sharing my culture and language with children. After moving to Singapore in 2013, I decided to keep on working in the Chinese language area. Last year, I published a book to help foreigners prepare for their Chinese Proficiency Test.
The Teaching Assistants
Amélie
French-Speaking Teaching Assistant N2 (France)
I graduated in 2010 as an educator for young children. In 2017, I followed my husband to Singapore with our two children aged 2 and 5. In France, I have mostly worked in nurseries, where I followed the little ones, the team and the families. Then in 2014, I became a technical specialist coordinator for micro-nurseries. Passionate about pedagogy, especially 'active' pedagogies where the child is the main actor of his own learning process, I enjoy sharing my knowledge and helping children develop in a benevolent environment. Today, I have the opportunity to join La Petite Ecole's team and I am truly happy to support the children in their search for autonomy, while meeting their needs.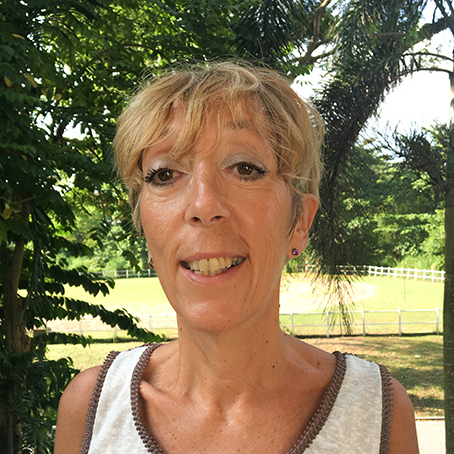 Martine
French-Speaking Teaching Assistant K2 (France)
I studied Banking and Insurance, and after working in that field for a few years, I turned to civil services as a jurist in a Community of Communes. During my free time, I helped look after children aged 6 months to 3 years old in a Early Childhood institution. My husband's expatriation was the opportunity to start a new job at La Petite Ecole, only a month after we arrived in Singapore in December 2016. I am very pleased I joined this young and dynamic team and I find motivation in taking care of children by helping them thrive.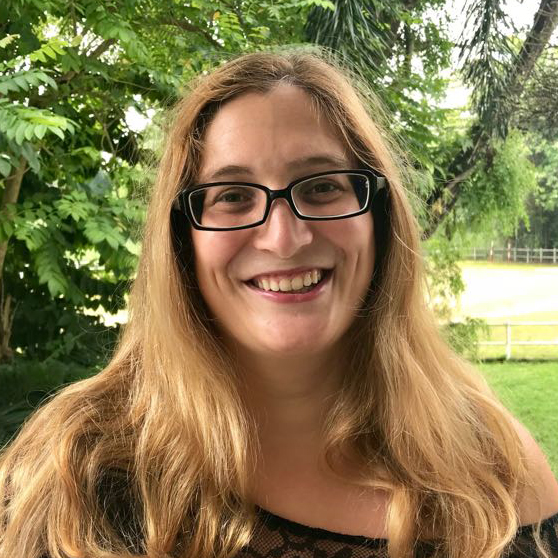 Karine
French-Speaking Teaching Assistant K1 (France)
I am Karine, a 32 year old French woman from Paris. My greatest passion has always been travelling, therefore, in May 2016, after 10 years working in French schools, mainly with special needs kids and managing disabled adults' summer camps, I decided to take a gap year and travel around South-East Asia. During my travel, I have done voluntary work in different schools to compare different educational systems and I really enjoyed and learnt a lot from this experience. As I think we never stop learning, and after studying in various fields, I passed my TEFL certificate last year, and I have been studying Maria Montessori's Methods. I'm passionate about Education and camps animation, and I would like to transfer my knowledge and enthusiasm to your children.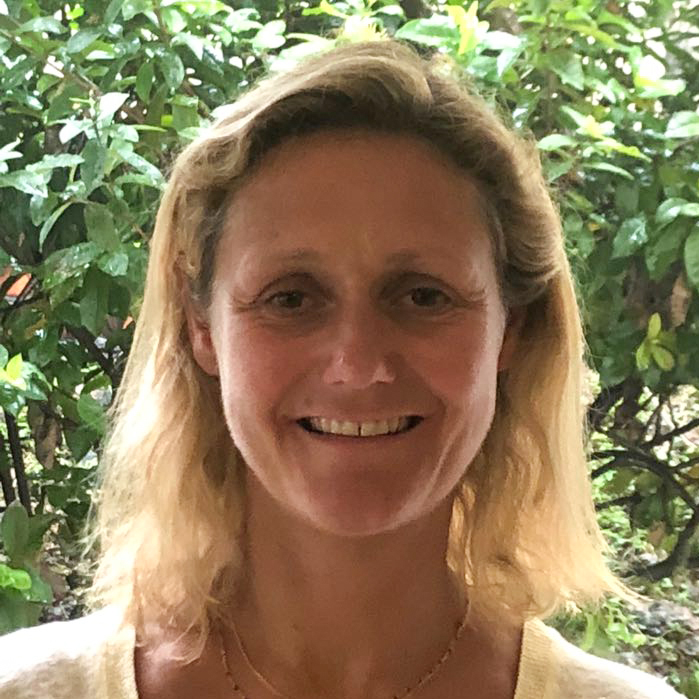 Alexia
French-Speaking Teaching Assistant N2 & K1 (France)
After graduating from a business school in France, I started my career working for a leader company in HR for 5 years (Lille, France). In 2006, a job opportunity brought me and my family to Singapore. Thanks to my spouse's job, we have been to many countries, and I managed to work part time to better balance my family life and professional life. I had amazing experiences (sales, marketing, finance) and made beautiful and enriching encounters. Today, my children are older and self-sufficient, so I decided to 're-invent' myself and turn towards an environment that has attracted me for a long time, the early childhood. After one year as assistant N2, I am now working with N2/K1 children at La Petite Ecole where I believe we will all spend a wonderful year that will encourage us to go even further!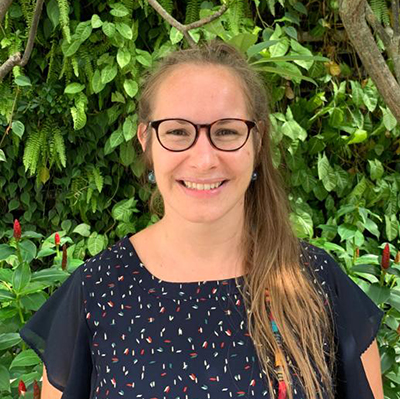 Clarisse
French-Speaking Teaching Assistant N2 (France)
I am an experienced, professional nurse. I worked for a few years at Hospitals of Paris, before following my spouse to Bogotá, then to Singapore. As a sports enthusiast and passionate about handicraft, I will be very happy to accompany your children on their learning journey.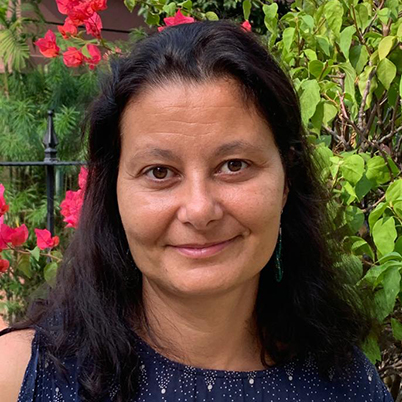 Alexandra
French-Speaking Teaching Assistant K2 (France)
For over 10 years, I had the chance to experience various international Education settings in different countries, USA, South Korea, France and Singapore. Before coming to Singapore, I worked in an international Preschool in South Korea, which followed the English Curriculum and the Reggio Emilia approach, which places play and art at the center of their pedagogy. My experience taught me how to create an environment that encourages children's learning and communication through hands on experience. I am a mother of 2 bilingual teenagers and as a family we enjoy discovering the cultural diversity of Singapore and cycle at East coast park. I am delighted to join the LPE Team this year and work in a bilingual environment. I am looking forward to spend the coming year learning and growing with your children.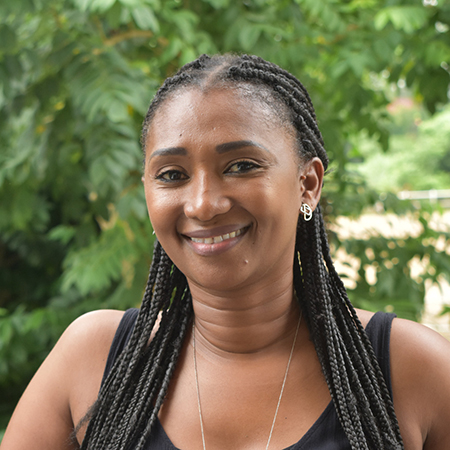 Aida
French-Speaking Teaching Assistant K1 (France)
After ten years working as a Copyrights Manager and Financial Analyst in Auditing, I decided during my first expatriation to Australia, to suspend my professional career to care of my family in our new life. After I arrived in Singapore, I decided to work again and turned towards a field I had always been attracted to : education, and more particularly early childhood. I have joined La Petite Ecole as shadow teacher for a child I supported in his first and second years of preschool. I am glad to continue this adventure as a French-speaking Assistant in K1.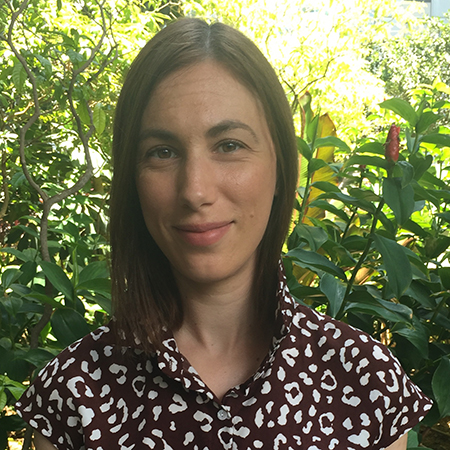 Marlaine
French-Speaking Teaching Assistant N2 and Canteen Assistant (Canada)
I am from Canada. Me and my husband embarked on an adventure since 2012, having lived in France and Singapore. It gives me great pleasure to be part of the team at La Petite École. This job allows me to develop my knowledge and thus help me in my studies that I pursue in the field of early childhood education. My great experience with children as a figure skating teacher, assistant teacher and school life helper, taught me to have a warm approach that encourages and supports the development of the child. Knowing that I have a lot of energy to give and that I like to remain active, I am sure that we will spend a beautiful year filled with great moments and achievements!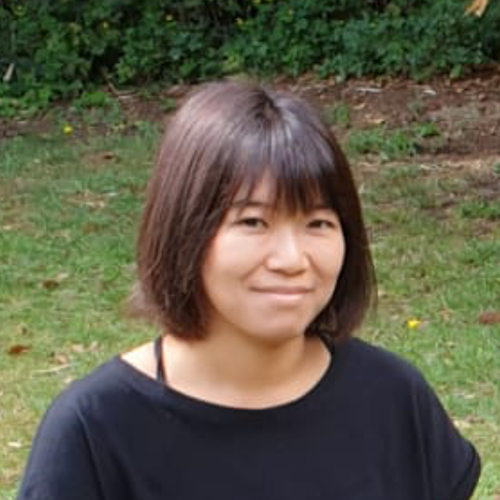 Michiko
French-Speaking Teaching Assistant N2 and Canteen Assistant (Japan)
Coming from Japan, I grew up in Osaka and Tokyo where I studied. After one year in exchange abroad in Helsinki, I obtained my diploma in Sociology. After living in different European countries, I followed my partner in 2010 for a first expatriation to Singapore, till 2012. Since 2014, we are back in Singapore. My two boys are studying at Le Lycée Français and I am fully involved at La Petite Ecole since 2017, first as canteen assistant and since 2019, as a preschool and canteen assistant. I am happy to have joined this motivated and dynamic team and to help children thrive.
The Support Team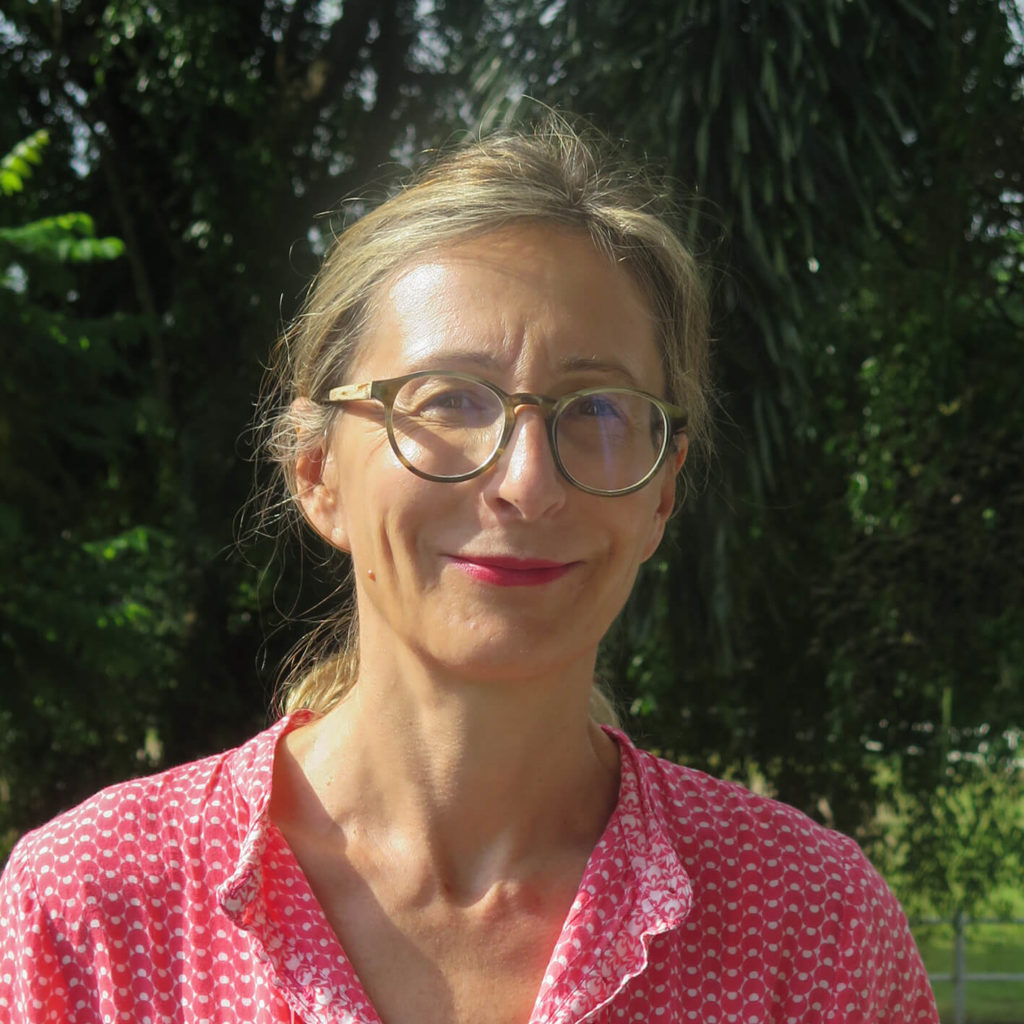 Marie-Pierre
Librarian (France)
Certified in foreign languages, I spent most of my professional life in a Parisian museum, where I was in contact with many school groups. When I arrived in Singapore in 2016, I naturally wanted to engage myself in a new project related to education. I first worked as a sub-teacher at the American School in Singapore as a Spanish assistant. I volunteered for the school fair at LFS (French School in Singapore) as a coordinator. I truly enjoyed my first year at La Petite Ecole, where I took care of your children and shared my enthusiasm for learning. This year, like last year, I will be in charge of the school library, thus instilling in children a love for books.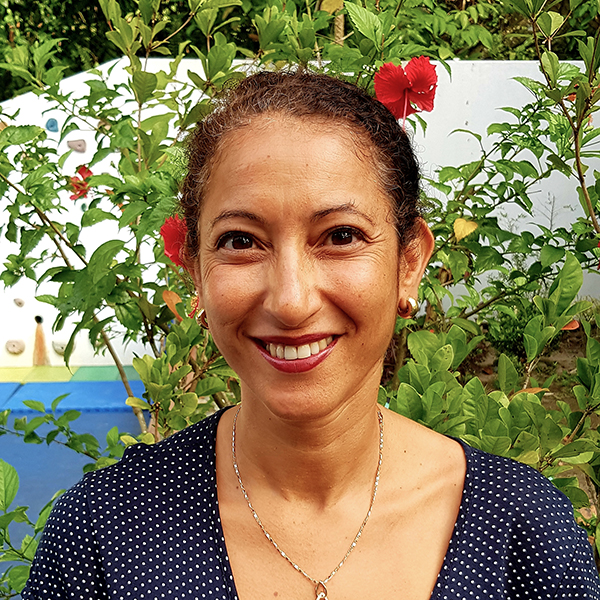 Samia
Health Service Manager
I studied to become a professional nurse, and I first worked extensively with children in a paediatric and pedopsychiatric department, in France. When I arrived in Singapore in 2016, I naturally looked for a job related to young children. For a while I worked as a relief preschool and nursery assistant at La Petite Crèche and La Petite Ecole, before moving on to a full-time position as a preschool assistant in 2018. This year, I am very pleased to become the school nurse. Mother of 2 and passionate about travels and sports, I feel fulfilled when taking care of the little ones and guiding them in their education on health and well-being. I will be available to care for and listen to the children all year long, and answer the questions you may have about your child's health.
Laurène
School Counsellor
A professional psychologist since 2008, I have worked in Paris for many years, in different establishments for both adults and children. I also ran my own practice, where I received children. Today, it has been 3 years since I started working as a self-employed counsellor in Singapore, with adults and children. I also carry out interventions in a business school, where I offer my support to the students. I am very excited to become part of a team where the children's well-being is placed at the centre of the school's pedagogy. My role will consist in supporting the children who experience difficulties in learning or in dealing with their emotions, to explore solutions with the teachers in order to meet the specific needs of the child, and finally to liaise with the parents.