A typical day at La Petite Ecole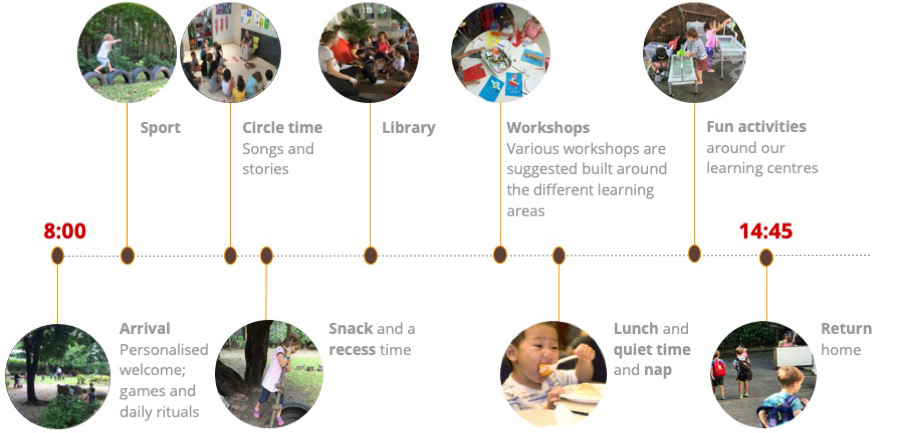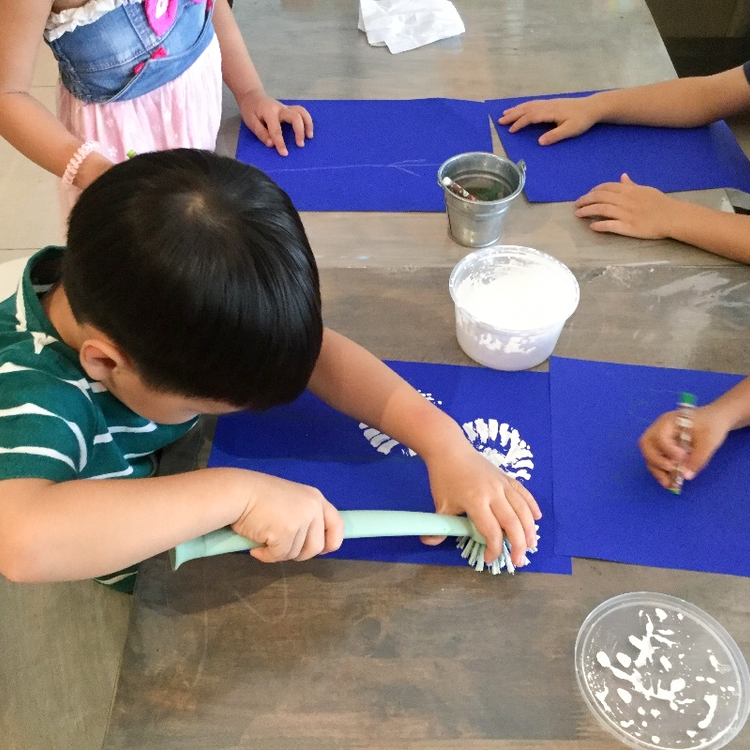 Monday – Thursday :
Welcoming the children from 8:00 am – End of the day at 2:45 pm
Alternating one day in English with the native English-speaking teacher and one day in French with the native French-speaking teacher.
Friday :
Welcoming the children from 8:00 am – End of the day at 12:00 pm
The morning is split between both English and French-speaking teachers.
The children are welcomed in our garden where they can play freely before joining their group to go to their classroom at 8:20 am.
Then begins the ritual of songs and stories, followed by a first session of autonomous activities for about 45 minutes, on the age-relevant workshop stations prepared by the teachers. After that first session, it is time for a break and snack, which usually takes place in our beautiful garden. Once they go back inside, the children carry on with their second session of autonomous activities, for about 90 minutes.
At 11:30 am, the children take their lunch on our covered terrace. Around 12:00 pm, the little ones who still need a nap will head towards the dedicated room, while the others will continue their activities under the benevolent supervision of their teacher.
2:45 pm marks the end of the day for those who are not enrolled to any extracurricular activities. At the beginning of the year, all children are given the choice to enrol for one activity a day: swimming, yoga, ninja and soccer or after-school care solution. In that case, the children will finish at 4:00 pm. On Friday, everybody go home at 12:00 pm!
The School Year at La Petite Ecole
La Petite Ecole strives to respect the pace of each child and for this we follow the guidance of the AEFE concerning the alternation of work and rest periods. The school adapts to its host country and the calendar follows some of the public holidays as well as regular holidays.
The school year starts at the beginning of September and ends at the beginning of July.
Our calendar 2020-2021 is available for consultation or download. Our calendar 2021-2022 (next school year) is also available.
Canteen Service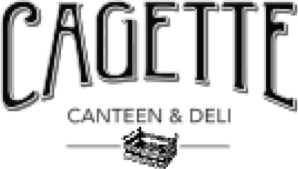 La Petite Ecole is very proud to work with French restaurant Cagette, which is located only a few blocks away from the school. Chef Cedric cooks yummy dishes adapted to children's dietary needs and delivers them to the school on a daily basis.
This service is mandatory and charged 21,250 THB per year, in 3 instalments (terms). The menu can be adjusted in case of allergies or diet without pork or gluten.
Extracurricular activities
Launched last year, extracurricular activities have been carefully handpicked from a selection of companies with excellent credentials among renown schools in Bangkok.
Each activity is scheduled on a specific day of the week, for a duration of one hour, from 3:00 pm to 4:00 pm. Between the end of school at 2:45pm and the beginning of the activity at 3:00 pm, the children are taken care of by the school staff. During those 15 minutes, they enjoy their snack as well as some free outdoor play.
Here is our range of optional ECAs for this year: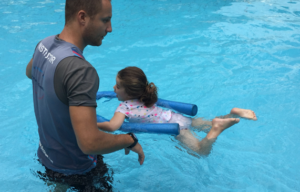 SWIMMING (every Monday)
500 THB per hour
Lessons in English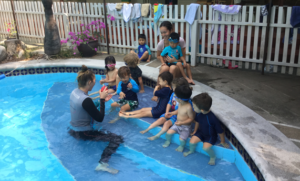 Name of the company: PB Corner working with La Petite Ecole since 2017.
Description: enables the children to feel at ease in the water and to discover basic techniques of swimming (breath under the water, coordinate legs and arms…)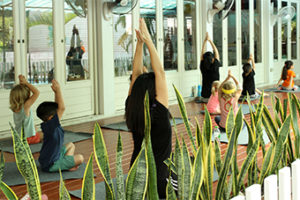 YOGA (every Tuesday)
350 THB per hour
Lessons in French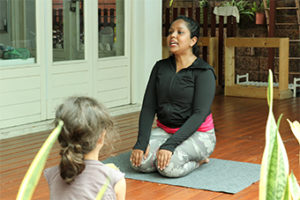 About the teacher: Mélodie Rochery, graduated in Rishikesh Yoga school (India) who worked in Somit Yoga Education, Varanasi, India. She is also a teacher at la Petite Ecole.
Description: enables the children to develop both their mental and physical potential, through gestures and moves of « Jungle Yoga ».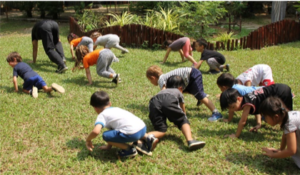 NINJA (every Wednesday)
400 THB per hour
Lessons in French, English and Thai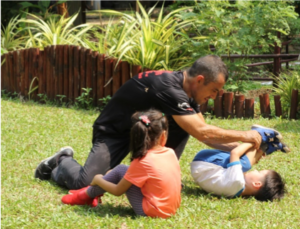 About the coach: Patrick Simon, who works for NIST and St Andrews
Description: Introduce the core skills of gymnastic through fun games and teach the children the values and principles of martial arts.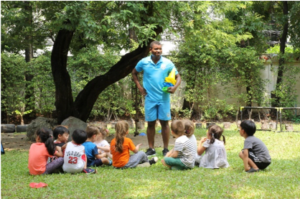 SOCCER (every Thursday)
500 THB per hour
Lessons in French and English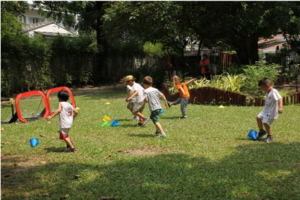 About the club: Bangkok Ensi Sport working with ISB, St Andrews, Bambino…
Description: enables the children to play soccer game by learning basic techniques through fun games and small matches, and develop their sense of team spirit.

After-school care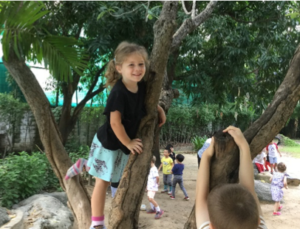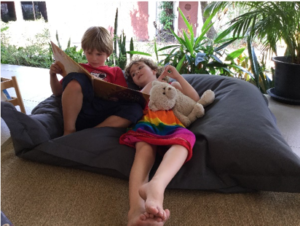 Monday to Thursday
After-school care is in English and Thai.
From 5,600 THB (1 to) à 16,800 THB (4 days) for 14 weeks
La Petite Ecole offers an alternative to extracurricular activities between 2:45 pm and 4:00 pm from Monday to Thursday. It is an after-school care service which enables the children to keep making the most of our equipment indoor and outdoor, under the supervision of our team. With activities less focused on sports than our ECAs, this service includes (but are not limited to) storytelling, arts & crafts, snack time and free play outside.
This optional service can be selected for one or more days and can also be alternated with extracurricular activities activités. For instance, Monday – Swimming, Tuesday – After-school care, Wednesday – None, and Thursday – After-school care.

IMPORTANT: Enrolment to extracurricular activities and/or after-school care is done by period and will only be confirmed if the minimum number of children is reached. 
Our Bus Service

La Petite Ecole has appointed the company Blue Jade, which has over 10 years of experience in school transportation. Under certain conditions, children can benefit from this service.
The service is door to door, from the child's home address (in front of the residency) to La Petite Ecole in the morning, and from La Petite Ecole to the child's home address (in front of the residency) in the afternoon. Time for pickup is set to ensure that children arrive at La Petite Ecole between 8:00 and 8:15 am. Homeward trips from La Petite Ecole are organised on two schedules: 2:45 pm and 4:00 pm, which enables the children who participate in either ECAs or after-school care to benefit from this service.
All school buses are equipped with the following:
9 seats: 8 seats for the children and one seat for the bus monitor.
Air conditioning.
Seatbelts.
Fire extinguisher
Mobile phone (driver and monitor)
A dashboard camera. Video recordings are stored for 15 days on a secured server.
A CCTV camera. Video recordings are stored for 15 days on a secured server.
Drinking water.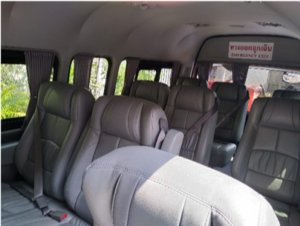 All school buses are subject to independent technical checks in accordance with the Thai legislation.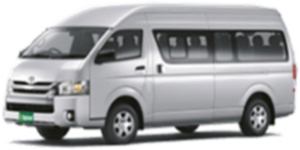 The subscription is done for the whole year and requires to initiate a quotation process first. The service can be confirmed if the minimum number of children is reached.