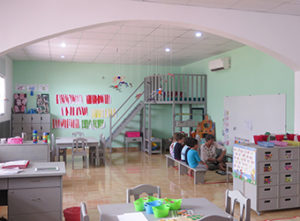 Christmas is on our doorstep, marking the end of a first wonderful term for children of La Petite Ecole, their families and teachers.
Back-to-school was the opportunity for children and their parents to meet our team of dedicated teachers and assistants. For those who already knew the premises, they discovered new facilities, bigger and brighter rooms, a greener environment, new games and educational equipment for the students.
Mid-Autumn Festival
Children learned about the fairytale of the Mid-Autumn festival and its traditions. They understood it is a time for the family to get together.
In class, they made their own lantern, interpreted 'Décroche-moi la lune', from Eric Carle, into a personal collage and prepared the traditional mooncakes. Lots of fun activities to get the children engaged in the local traditions and beliefs. 
Halloween
Next on the agenda was Halloween, celebrated throughout the school with themed decoration-making and activities. The excitement built up, as children made decorations and games for the D-Day, when they finally got to dress up for the occasion, and show their parents all they had working on. They enjoyed drawing ghosts, pumpkins and spiders, filling up the candy drop box, building a ghosts bowling game, making collages, baking witches fingers, and more!